San Francisco's temperate climate, dense neighborhoods, limited supply of automobile parking and compact geography have helped create a renewed interest in greener, more efficient transportation alternatives. With more and more people opting to bike to work, school, to run errands and for fun, San Francisco has the potential to become a world-class bicycling city.
Major infrastructure and programmatic improvements have taken place since the San Francisco Bicycle Plan was developed in 1997. Miles of new bicycle lanes have been striped; hundreds of bicycle racks have been installed; educational programs and outreach efforts have been expanded; and the percentage of San Francisco residents who commute to work by bicycle more than doubled from 1990 to 2000 and continues to increase.[1]
Cycling Groups and Organizations
Edit
San Francisco Bicycle Coalition

Orginization promoting cycling in SF and the Bay Area. Great resource for meetups, safety and training for recreation and commuting cyclists.
The Bike Kittchen

Volunteer organization what offers classes and facilities for cycle repair and maintenance.
Bicycle Vendors
Edit
The popularity of cycling in SF ensures there will always be a fresh supply of new and pre-owned bikes for a wide range of budgets.
Used
Criagslist - http://sfbay.craigslist.org/sfc/bik/
New
Mikes Bikes - http://mikesbikes.com/contact/san-francisco-pg175.htm
Bike Rentals
Bike Rentals of San Francisco - http://www.bikerentalsanfrancisco.com/ Blazing Saddles - http://www.blazingsaddles.com/san-francisco.aspx
Bike Routes
Edit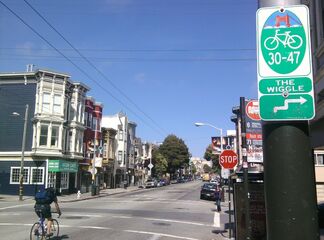 The Wiggle - the popular multi-block, flattest route between Duboce Park and the Panhandle - is a lovely journey through a largely residential part of the city and some neighborhood retail streets. [2]
Google Map Wiggle route - http://bit.ly/Nqy5ko
Totally sweet bike cam of the Wiggle - http://www.youtube.com/watch?v=KeV7PtUC79U
Another totally sweet bike cam of the Wiggle - http://www.youtube.com/watch?v=IrpcEfVjd-c&feature=related
San Francisco Bike Coalition Route Map - http://www.sfbike.org/download/map.pdf
References
Edit
↑ SFTMA "San Francisco Bicycle Plan 2009" http://www.sfmta.com/cms/bproj/documents/San_Francisco_Bicycle_Plan_June_26_2009_002.pdf
↑ San Francisco Bike Coalition "www.sfbike.org/?wiggle" http://www.sfbike.org/?wiggle