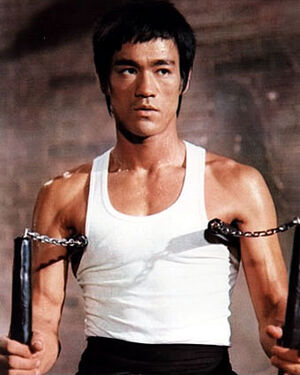 Bruce Lee (b. Lee Jun-fan; November 27, 1940 – July 20, 1973) was a Chinese American Hong Kong actor, martial arts instructor, philosopher, film director, film producer, screenwriter, and founder of Jeet Kune Do. He is widely considered by many commentators, critics, media and other martial artists to be the greatest and most influential martial artist of all time.
Lee was born in San Francisco's Chinatown on November 27, 1940 to parents from Hong Kong and was raised in Kowloon with his family until his late teens. Lee returned to San Francisco at the age of 18 to claim his U.S. citizenship and receive his higher education. It was during this time that he began teaching martial arts, which soon led to film and television roles.
Lee moved to Seattle, Washington in 1959 to complete his high school education, and went to college at the University of Washington. Lee is buried in Lakeview Cemetery in Seattle.