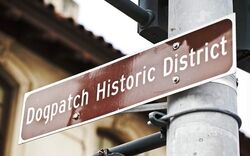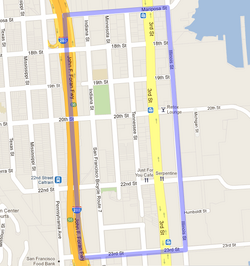 The Dogpatch (
a.k.a "The DP"
) is located in the flats East of
Potrero Hill
. It is bounded by Mariposa and 23rd St on the North and South, I-280 and Illinois St to the West and East.
The Dogpatch began as an industrial area during the Gold Rush in 1848. An increase of ship traffice led this area grow rapidly with heavy industry and the working class families that were employed there.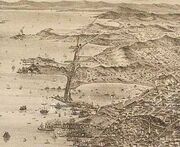 The Dogpatch was originally cut off from downtown San Francisco by Mission Bay until 1865 when a causeway was built over the bay. It is Mission Bay that saved the Dogpatch from the fires that consumed the city after the 1906 earthquake. Because of this the Dogpatch has some of the oldest buildings in San Francisco.
Industry in the Dogpatch grew until after WWII when shipping ports moved to larger more modern facilities in Oakland, Seattle and Los Angeles.
Today the Dogpatch still has many of these older factory and warehouse buildings, but recently more of these have been reclaimed by new commercial endeavors or torn down for residential lofts.
Physical Features
Edit
While the Dogpatch used to have a varied topography and environment, the hills were leveled and the marshes drained. Today the Dogpatch flat and dry.
Food & Bars
Edit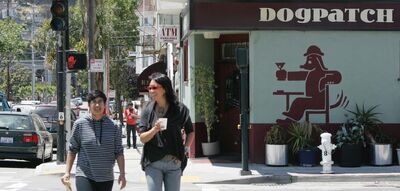 Restaraunts/Cafes
Edit
Piccino
Serpentine
Hard Knox Cafe
Mr & Mrs Miscelleneous
Poco Dolce
Kitchenette
Just For You Cafe
Moshi Moshi
Dogpatch Cafe
Cup of Blues
Dogpatch Saloon
Yield Wine Bar
Retox
Nightlife
Edit
Shopping
Edit
Transportation
Edit
22 Fillmore bus
Edit
The 22 Fillmore runs from the Marina (Fillmore St & Jefferson St) to the Dogpatch (Tennessee St & 20th St)
T - Line light rail
Edit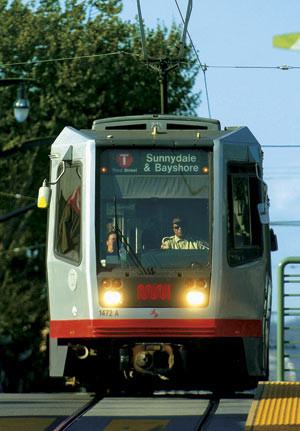 The T-Line runs from West Portal inbound to Bayshore. It runs through the Dogpatch on 3rd street.
Caltrain
Edit
Caltrain has a stop at 22nd & Pennsylvania
Community content is available under
CC-BY-SA
unless otherwise noted.