History (Then and Now)
[
]
Union Square is the heartbeat of San Francisco—ever-changing, eternally celebrating, yet firmly rooted in its rich past.
In 1847, the City of San Francisco commissioned Jasper O'Farrell to lay out a design for its streets and parks. Union Square was one of two public squares. It was named on the eve of the Civil War (1861-5) as a demonstration of support for the Union.
During the 1880s, the Square had become the center of a fashionable residential district. By the turn of the century, offices and stores dominated the Square, pushing out residences and churches. Then the infamous 1906 San Francisco earthquake shook the city.
In 1997, the San Francisco Prize Coalition and the City of San Francisco announced an open competition for the redesign of Union Square Park. Toward a More Perfect Union: An International Design Competition for the Future of Union Square, received 309 entries from 10 countries and 20 states. The winning entry by MD Fotheringham, Landscape Architects entitled "All the Square is a Stage" sought to transform Union Square from an imposing, seldom used urban space into an open, pedestrian-friendly plaza.
A "new" Union Square opened to the public on July 2, 2002. Designed by MD Fotheringham, Landscape Architects in partnership with April Philips Design Works, the $25 million project successfully improved visibility into the Square, making it more inviting and accessible. The redesign included a large central plaza, stage lawn terraces to Geary Street, terraced steps aligned with Maiden Lane, four grand corner entrance plazas, new public art by R.M. Fischer, a ticketing pavilion, and a café with open air seating. The historic Dewey Monument was retained, as were signature palms at the four corner entrances to the Square.
Originally a park surrounded by churches and residences, the Square is now the commercial retail center of the city. It continues to serve as a stage for gatherings of all types, including musical performances, dance, art exhibitions, rallies and spontaneous outbursts of theater, speech, and song.
(http://www.visitunionsquaresf.com/)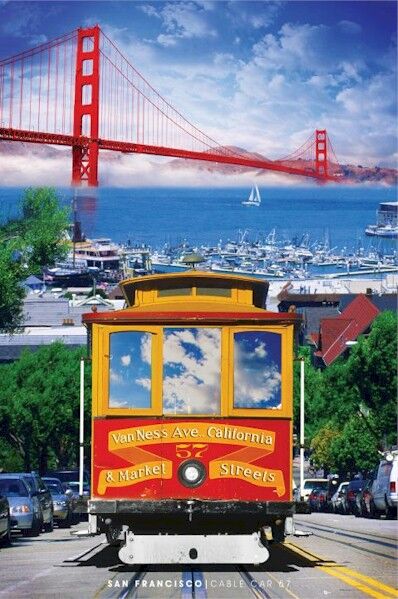 Climate
[
]
San Francisco is known to have varying climates -- sometimes just within a matter of a few street blocks. As such, residents of the city advise tourists to walk a few blocks if they don't like the weather.
The downtown (or Union Square) is typically warmer and windier than other areas within the city. But be advised that the weather can change instantly, so dress in layers. San Francisco is commonly referred to as the "sweater city" because of its unusually cold summers.
Food and Bars
[
]
The city is home to a variety of great restaurants and bars. To help first time visitors (particulary those staying in the Union Square area), below are my Top 5's.
Transportation
[
]
The best way to explore downtown is to WALK! Be ready for steep hills and watch out for "lollygaggers". Wear comfy shoes and make sure you're ready for a workout. But if you must take public transportation, there are a variety of options.




Safety
[
]
Like any other bustling city, San Francisco is not immune to crime. Take the necessary precaution when walking the streets of San Francisco. To the fellas, do not put your wallet in your back pocket. You will be the prime target of pickpockets. To the ladies, keep your purses zipped and close to you.
According to spotcrime.com, the most common crime types that occur in Union Square are petty theft and assault. But don't let this deter you from visiting this beautiful city. Use common sense and stay in well lit areas.
If you witness a crime or a victim, call the San Francisco Police Department at (415) 553-9044 or 911. For more information about the SFPD Victims Services, visit their website: http://sfvictimservices.org/.
Shopping
[
]
After exploring the different neighborhoods in the city, make sure to hit one of many stores in Union Square. Whether you're a frugal customer or a lavish shopper -- or simply like window shopping -- there is a place for you!
Charming and intimate, Maiden Lane sits quietly between Geary and Post streets, running east to west from Stockton to Kearny. Home to the city's largest concentration of luxury retail, Maiden Lane is the place to shop for the latest fashions or the perfect gift for a friend.
The Maiden Lane gates are closed daily from 11 a.m. to 6 p.m., closing the Lane to cars and allowing the cafés to transform the bustling business district into a quiet pedestrian oasis. Relaxing in one of the outdoor cafés, it is easy to feel transported to another place and time.