HRD Coffee Shop

The Essentials

Cuisine
Korean Fusion
Location
521 3rd St

Ste A (between Taber Aly & Park Ave) San Francisco, CA 94107 Neighborhood: SOMA

Map
<place lat="37.78098830" lon="-122.39536270" />
Price Range
< $10
Established
Unknown
Yelp Rating
4.5
Michelin Rating
N/A
Website
http://www.hrdcoffeeshop.com/
HRD is a Diner/Coffee Shop in the SOMA district (South of Market) on the 500 block of 3rd street that specializes in Korean-Fusion.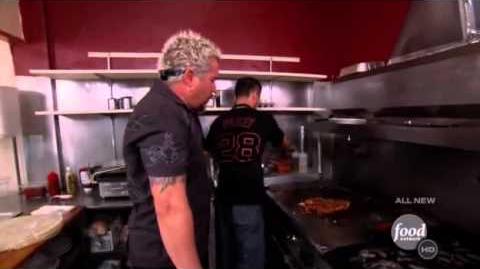 HRD was featured on the Food Network's '"Diners, Drive-Ins and Dives"' hosted by Guy Fieri! The episode can be viewed here.
Due to the publicity the line's at HRD are typically VERY long during the peak lunch period. If you don't have a lot of free time during lunch you should get there 10 or 15 minutes before 12:00pm.
They make killer breakfast burritos and have a great lunch menu with very reasonable prices. If you're feeling brave, order the "Wade Special". It's off the menu but you'll be happy you did!
The owner David is a great guy and always willing to whip something up special for you. Be polite and don't ask for something time consuming during the peak lunch rush...
The cashier Gary is the charisma of the place. Gary has an amazing ability to remember customer names after just one or two visits. With the number of people that come through this little diner it's an amazing feat of mental prowess!