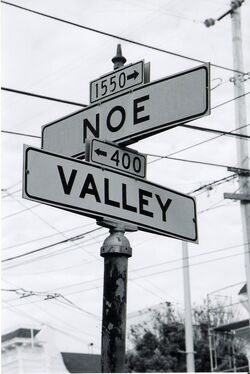 Noe Valley is a quiet neighborhood located south of the Castro district, East of Bernal Heights , North of Glen Park , and West of Diamond Heights . It is a family-friendly area characterized by the abundance of dogs on leashes and babies in strollers.
Topography
[
]
Noe Valley is called a valley because it rests in the shade of Twin Peaks, the largest mountain in San Francisco. However, Noe has some hills of it's own, particularly running along 28th Street and 22nd Street, with dips at 24th Street and 30th Street.
Weather
[
]
Noe Valley enjoys some of the best weather in the city. Twin peaks shields Noe from the fog that rolls in from the ocean and over the Sunset District. You can often look up from Noe towards Twin Peaks and see the fog rolling over the mountain and dispursing before it has a chance to reach the valley. It is, however, still in San Francisco, so temperatures rarely reach above 80 degrees fahrenheit. Typical temperatures are upper 60's in the summer time and upper 50's in the winter.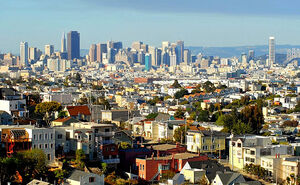 History
[
]
Noe Valley is named after José de Jesús Noé, the last Mexican Alcalde of Yerba Buena before the land was renamed San Francisco after the Mexican American War in 18461 .
Transportation
[
]
The J Muni line runs down Church Street and is popular choice for downtown commuters. The 24 and 48 lines also run through Noe Valley.
Map
[
]
Resources
[
]