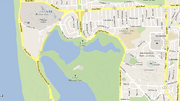 This is about Parkside!
Parkside, also known as Lakeshore, is the southwest corner of SF from 19th to Sunset and Sloat to the Daly City border. Known for its schools (Lowel High School and San Francisco State) and for being flat, Parkside is for people who should live in Daly City but can't bear to part with their SF zipcode.
History
[
]
Prior to 1900 Parkside was mostly sand dunes and a few enterprising farmers. In the mid 1900s the majority of this neighborhood was built up by Henry Doelger, leading to its "cookie-cutter" blocks of houses.
Physical Features / Topography
[
]
Parkside is flat. Compared to the rest of the city, it's, like, Kansas-flat.
No summary of the topography would be complete without mentioning Lake Merced. Long considered to be one of the best urban fishing spots, Lake Merced has more recently fallen from its former glory. A recent San Francisco Chronicle article by Tom Stienstra used a series of photo comparisons to illustrate this point. The entire article is available here . For what it lacks as a fishing spot, it makes up for with a wide, paved loop around the lake for runners, walkers and cyclists that is very popular with the locals, especially on weekends. It is home to an abundance of bird life making it a popular spot for birders as well.
Tourist Attractions
[
]
There is really only one thing to see in Parkside, with the possible exception of the Pacific ocean, and that is the San Francisco Zoo. Home to a crowd of penguins , mauling tigers and one of the cleanest playgrounds in the city, the SF Zoo is a hidden gem most locals forget to admire.
Food and Drink
[
]
Parkside is not known for its food or drink options. At Sloat Blvd and Everglade is the Lakshore Shopping center, home to great eateries such as Ono Hawiian BBQ, Chipotle, Noah's Bagels, Nubi Yogurt, Tully's coffee, Quizno's, a sushi joint and of course, Luckys grocery store.
For a more complete eating and drinking experience, head to nearby West Portal.
Nightlife
[
]
Yeah, no...there isn't any nightlife in Parkside. Parksiders sleep at night.
Parks
[
]
Shopping
[
]
One word: Stonestown.
The closest thing San Francisco has to an urban mall, Stonestown is a sprawling, indoor mall anchored by a small Nordstrom at one end and an aging Macys at the other. It also has two empty spaces once home to a Circuit City and a Tower Records.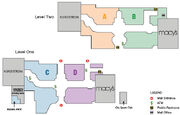 On Sundays a Farmer's Market emerges out of the parking lot in the rear of the the mall.
Transportation
[
]
The most common form of transportation in Parkside is the gas-powered automobile, also known as "cars".
A handful of Muni lines service this area including:
23 - Monterey
29 - 19th Ave
K- Ingleside
L - Taraval
M- Ocean View
Is it safe?
[
]
Yes. The majority of police activity in this area is due to prostitution and car theft. Lock up your women and your cars and you'll be ok.
Population / Famous People
[
]
Parkside is not known for its celebrity inhabitants the way Sea Cliff is, however, many notable people have attended the two main schools in the area including actor Bill Bixby (Lowell), Wikia superstar Carla Faraguna (Lowell), author Naomi Wolf (Lowell), actor Benjamin Bratt (Lowell), actor Jeffrey Tambor (SFSU), artist Roy DeForest (SFSU), singer Johnny Mathis (SFSU), actor Annette Bening (SFSU), Wikia superstar Mary Atchinson (SFSU), actor David Carradine (SFSU), comedien Dana Carvey (SFSU),