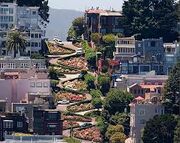 History
[
]
Russian Hill is one of San Francisoc's 44 hills, and one of the original "Seven Hills. It is directly located north of Nob Hill, to the south from Fisherman's Wharf and to the west of North Beach. The Hill is bordered on its west side by parts of the neighborhoods of Pacific Heights, Cow Hollow and the Marina District.
The neighborhood's name goes back to the Gold Rush era, when settlers discovered a small Russian cemetery at the top of the hill. Russian naval and merchant ships frequently visited San Francisco throughout the 19th century beginning in 1806, and there are several mentions of burials of crew members in the Russian Hill cemetery in the first half of the century. The cemetery was removed, but the name remains to this day. Although the oldest Russian orthodox church is San Francisco Holy Trinity Cathedral is located a few blocks away on Van Ness and Green Street, there is presently no significant Russian presence here as the city's Russian community is located primarily in the Richmond District.
Today's Russian Hill is filled with charming restaurants, bars and small businesses clustered on leafy Hyde Street between Jackson and Union Streets, and Polk Street is crowded with unusual boutiques, antique shops, trendy restaurants, night spots and tourist attractions . A mini French quarter has sprung up around Polk and Green, where you'll find a great bistro, a traditional café-boulangerie, a French antiques store, and several French-influenced gift and home décor shops.
Map
[
]
Demographics

[

]
Relationship Status:
Homes With Kids: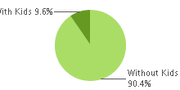 Who Lives there:
1-
Foreign-born Urbanites -
[
]
Foreign-born individuals who live in city.Born outside the U.S., they have moved to the U.S. and live in the city. Wide age range. Some have a high school or college education, and they work in a variety of occupations.
2- Power Singles
[
]
—High-income urban singles. Highly educated professionals, many with advanced degrees. They draw a handsome salary and have reasonable living expenses while living a hip, upscale life in an urban center.
3-
Bright Lights, Big City
[
]
—Very mobile singles living in the city. Singles ranging in age from early 20s to mid-40s who have moved to an urban setting. Most rent their apartment or condo. Some have a college education and work in services and the professional sector.
Tourist Attractions

[

]
The neighborhood is most famous for Lombard Street, the one-way section between Hyde and Leavenworth Streets, in which the roadway has eight sharp turns (or switchbacks) that have earned the street the distinction of being "the crookedest street in the world". The switchbacks design, first suggested by property owner Carl Henry[ and instituted in 1922, was born out of necessity in order to reduce the hill's natural 27% grade, which was too steep for most vehicles to climb. As it is one of the most famous tourist attractions in the city, this section of the neighborhood is frequently crowded with tourists. Tourists also frequent the famous cable car line along Hyde Street, which is lined with many restaurants and shops.
A small park at the top of the hill on Vallejo Street features a small plaque and memorial placed by the Russian Government is dedicated to the original Russian cemetery that is the neighborhood's namesake.
Views from the top of the hill extend in several directions around the Bay Area, including the Bay Bridge, Marin County, the Golden Gate Bridge, and Alcatraz. Russian Hill is home to the San Francisco Art Institute, located on Chestnut Street between Jones and Leavenworth Streets.
Because of the steepness of the hill, many streets, portions of Vallejo and Green streets, for example, are staircases. Another famous feature of Russian Hill are the many pedestrian-only lanes such as Macondray Lane and Fallon Place, both with beautiful landscaping and arresting views.
Life in the neighborhood during the 1970s was used as the base for the fictionalized series Tales of the City by Armistead Maupin.
Much of the famous car chase sequence in the 1968 thriller Bullitt, starring Steve McQueen (whose character lived in Russian Hill on Taylor Street), were filmed on Russian Hill, notably the scenes on Taylor Street. The neighborhood was also featured in the early scenes of the 1982 action-comedy feature film, 48 Hrs. The cast of The Real World: San Francisco, which aired in 1994, lived in the house at 949 Lombard Street on Russian Hill from February 12 to June 19, 1994.
The Alice Marble Tennis Courts are four hardcourt tennis courts located at Lombard and Hyde Streets. The courts offer a view of the bay and North Beach and can be unsuitable for tennis on windy days. A basketball court is located adjacent to the tennis courts. The San Francisco Cable Cars serving the Powell-Hyde line stops nearby.
Restaurants

[

]
The Bagelry: Line up with the masses for fresh-baked bagels, a variety of cream cheeses and toppings like lox and tomatoes. Mainly a takeout place, but there are a few tables outside.
Frascati: Friendly service and lots of regular customers give this rustic restaurant the welcoming atmosphere of a true neighborhood favorite. Frascati features pan-European fare in a quirky, intimate setting that includes an open kitchen, a mezzanine balcony overlooking the main dining room, and several secluded nooks that fit just a table or two. Menu items might include paella, cassoulet or coq au vin, and stand-out desserts have included the black-and-white bread pudding and a light pumpkin cheesecake.
Harris': In these days of soy chai lattes and tofu spring rolls, stuffing yourself on an oversized cut of beef has become highly unorthodox. Thankfully, Harris' hasn't pandered to the Bay Area's changing diet, instead opting to perfect what they do best -- cook meat. They serve unfussy standards like porterhouse, as well as dressed-up classics like filet mignon.
Hyde Street Bistro: The husband-and-wife team that runs this inviting little bistro had a vision of presenting simple food in an unpretentious setting. Someday the American palate may consider sautéed escargot with gnocchi a simple meal, but until then the restaurant will have to content itself with a reputation for its intriguing French fare and cozy atmosphere.
La Folie: One of the most expensive restaurants in San Francisco has a whimsical interior -- clouds on the ceiling, hand-painted signs and closely set tables. The menu is traditional French, with California touches. The wine list focuses on California and French vintages.
Lemongrass: Good value Thai food in a cozy atmosphere. The cooks pay special attention to freshness and spice; the green curry (with seafood, vegetables or chicken) and pad thai are especially good.
T2J: A green awning with the name of the restaurant points the way into a room with glass-topped tables and wall hangings. Expect well-spiced dishes with good levels of heat, as in kaneg ped, a coconut milk red curry with boneless roast duck, tomatoes and basil. There are rice and noodle dishes, and a decent version of pad Thai. On the way out, don't miss the curio cabinet filled with curious items for sale, including hand-knitted caps.
Nick's Crispy Tacos: This club by night, taqueria by day, dishes out flavors from Baja daily. Chomp down on crispy battered fish tacos as you dine under crystal chandeliers and images of Sponge Bob. Also excellent are the tacos done "Nick's way." Carnitas, carne asada, or chicken are stuffed into a soft corn tortilla that is wrapped around a deep-fried one and overflows with guacamole, cheese and salsa fresca. Cash only.
Pesce: Visit this fish restaurant for simple seafood dishes with an Italian accent. The dark wood décor and tile floors give the place a clean, classic ambiance
Polkers: Get in line with the rest of the neighborhood on Saturday and Sunday mornings for overflowing skillets and scrambles. The all-American menu switches gears to burgers and deluxe salads for lunch and dinner.
Swenson's: This ice cream shop has been around for generations, super-fresh cones and overpacked pints to crowds on sunny days (and even some cold, foggy ones
Za Pizza: Too-large-to-hold gourmet pizza slices. Eat at the large bar or at one of the few small tables, or take it home.
Zarzuela: There's usually a line outside this Spanish restaurant, and no wonder. The casual atmosphere, pitchers of sangria and tapas menu practically ensure a festive dinner. Highlights include the paella, garlic shrimp, mushrooms and fried bananas with black bean sauce.