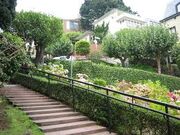 The neighborhood is most famous for Lombard Street, the one-way
section between Hyde and Leavenworth Streets, in which the roadway has eight sharp turns (or switchbacks) that have earned the street the distinction of being "the crookedest street in the world". The switchbacks design, first suggested by property owner Carl Henry
[
and instituted in 1922, was born out of necessity in order to reduce the hill's natural 27% grade, which was too steep for most vehicles to climb. As it is one of the most famous tourist attractions in the city, this section of the neighborhood is frequently crowded with tourists. Tourists also frequent the famous cable car line along Hyde Street, which is lined with many restaurants and shops.
A small park at the top of the hill on Vallejo Street features a small plaque and memorial placed by the Russian Government is dedicated to the original Russian cemetery that is the neighborhood's namesake.
Views from the top of the hill extend in several directions around the Bay Area, including the Bay Bridge, Marin County, the Golden Gate Bridge, and Alcatraz. Russian Hill is home to the San Francisco Art Institute, located on Chestnut Street between Jones and Leavenworth Streets.
Because of the steepness of the hill, many streets, portions of Vallejo and Green streets, for example, are staircases. Another famous feature of Russian Hill are the many pedestrian-only lanes such as Macondray Lane and Fallon Place, both with beautiful landscaping and arresting views.
Life in the neighborhood during the 1970s was used as the base for the fictionalized series Tales of the City by Armistead Maupin.
Much of the famous car chase sequence in the 1968 thriller Bullitt, starring Steve McQueen (whose character lived in Russian Hill on Taylor Street), were filmed on Russian Hill, notably the scenes on Taylor Street. The neighborhood was also featured in the early scenes of the 1982 action-comedy feature film, 48 Hrs. The cast of The Real World: San Francisco, which aired in 1994, lived in the house at 949 Lombard Street on Russian Hill from February 12 to June 19, 1994.
The Alice Marble Tennis Courts are four hardcourt tennis courts located at Lombard and Hyde Streets. The courts offer a view of the bay and
North Beach
and can be unsuitable for tennis on windy days. A basketball court is located adjacent to the tennis courts. The San Francisco Cable Cars serving the Powell-Hyde line stops nearby.