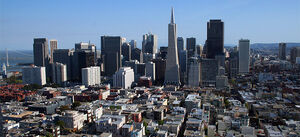 San Francisco is a consolidated city-county in northern California. It is one of the leading cultural and business centers in the state.
Population
[
]
With a city population of 800,000+ (4.3m metropolitan) San Francisco is the most densely populated city in California and the second-most densely populated city in the United States, but is only 14th most populous city in the United States.
Its population is composed of a large and diverse group of cultures. 45% of residents are white, 33% are Asian, 15% are Hispanic, 6% are black, and 1% other. [1]
Geography
[
]
The city is 46.9 square miles large and is surrounded by the San Francisco Bay and the Pacific Ocean, connected to the state via the San Francisco peninsula.
History
[
]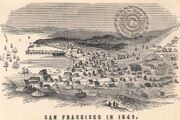 San Francisco was founded on June 29, 1776, when colonists from Spain established a fort at the Golden Gate and a mission named for St. Francis of Assisi a few miles away. The California Gold Rush of 1849 propelled the city into a period of rapid growth, transforming it into the largest city on the West Coast at the time with a population of 25,000. Three-quarters of the city was destroyed by the 1906 earthquake and fire but was quickly rebuilt. During World War II, San Francisco was the port of embarkation for service members shipping out to the Pacific Theater. After the war, the confluence of returning servicemen, massive immigration, liberalizing attitudes, and other factors led to the Summer of Love and the gay rights movement, cementing San Francisco as a center of liberal activism in the United States.
Local Flavor
[
]
If there's one thing San Franciscans love to talk about (other than the fog and what type of cell phone they have) it is their favorite places to eat and drink. Whether it's a greasy (but somehow organic) food truck at Off the Grid, a high class steakhouse, or a niche dive bar -- San Franciscans will tell you all about it. No wonder Yelp's corporate HQ is in this city.
SF in Pop Culture
[
]
Business & Industry
[
]
Neighborhoods
[
]
Parks
[
]
Map
[
]
<place lat="37.77492950" lon="-122.41941550" width="650px" />